Tucker's Ridge Turkey Hunt
Published March 24, 2013 in the Williamson Daily News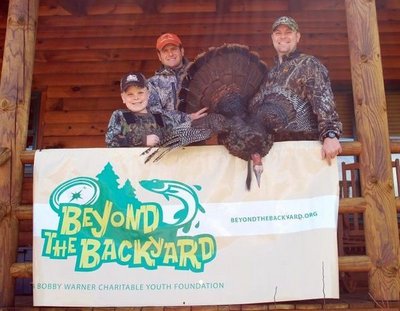 Daniel Smith, far right, is pictured with his son, Garrett, at left after getting his first gobbler. Smith won a hunting trip called Beyond the Backyard.
by Daniel Smith
Submitted Column
Let's start from the beginning.
After receiving an e-mail from Beyond The Backyard with info about sending in a photo for Garrett to win one of the two free youth hunts in either Ohio or West Virginia, I searched out the photo of the two coyotes we smoked earlier in the year. I uploaded the photos and hit send with high hopes.
Then, in early March, after just getting off the Kubota from doing some yard work on our new water line I went inside and the phone rings. It's Chris Walls on the other end. We start with some catching up since it has been a while since we have talked and he says "I've got some good news."
"I said okay" and he begins to inform me that Garrett (my son) has won the Ohio part of the youth hunt given away by Beyond The Backyard. I was overcome with joy. We speak briefly about some of the details and I tell him I was to call him within the week to line everything out.
On April 15, 2011, Garrett got to stay home from school today because we left around 12 noon to meet at Chris' house to drive up to the cabin in Meigs County, Ohio.
We get to Chris' house and leave around 2 p.m., after a brief stop a Food Lion in Ripley to get some food for the weekend we head out to Tuckers Ridge.
We arrive around 4 p.m. and this place is unbelievable. Bobby Warner has a beautiful place. We unload the trucks and hit the ponds for a little trout fishing. Garrett catches a few but the storm moving in sends us in a little early. We get cleaned up and have a little supper (potato soup, thanks to my wife Erica). While waiting on Bobby and Jackson to arrive Garrett gives in and falls asleep. Bobby and Jackson arrive around 9:30 pm.. and we catch up a bit and talk about how hard tomorrows hunt is going to be in the pouring rain. Anyway I crawl into bed with high hopes and just truly looking forward to spending the morning in the turkey woods with my son.
Morning comes early any time of year, but during turkey season, it seems not to be so bad. It absolutely poured the rain all night and was still raining when I got up. Things were not looking so good.
But, after a small breakfast we decided to go anyway because you definitely can't kill a turkey from the cabin. So, I, Garrett and Chris load up in his truck and head out to our spot. Chris had all intentions of filming this hunt, but with the pouring rain, it makes it tuff to tote a very expensive camera around..We park at the gate and start out the ridge to our food plot for the morning.
As we are walking out we hear a gobbler sounding off further out the ridge - a very good sign especially in the rain. We make it to our spot and load into the Double Bull blind. While Chris helps get Garrett situated I set out B-Mobile and a hen (decoy) about 15 yards from the blind. We get into the blind around 7:30 a.m., we do some brief calling in between down pours and sit back and wait. I truly enjoyed just the blind time with Garrett and Chris.
Its times like this you really get to hang out with people you care about. Anyway, while sitting there for about an hour I look out and see heads coming our way. "I say "Turkeys, Turkeys!" Chris later tells me he thought I was joking but he saw the seriousness in my face and knew this was not a joke.
I begin to get Garrett's gun on the Trigger Stix when two hens and gobbler walk out to where we can see them good. Then the Big Gobbler walks into view and spots B-Mobile. He literally runs over to him and blows into full strut and rubs against B-Mobile. I click the safety off Garrett's gun and tell him "put it on his neck and pull the trigger."
The gobbler begins to crane his neck, looking down a B-Mobile and I keep saying "shoot. Garrett shoot" after what seemed like forever Garrett pulls the trigger and the gobbler fold. Without hesitation or even thinking for that matter, I leave my chair in mid air and Swan Dive out the front window of the Double Bull, landing on my belly and make a mad dash to the gobbler. Not sure why, because he isn't going anywhere, but it seems that is just a reflex after shooting gobbler.
When I reach the longboard and get my hands on him I absolutely loose it. I am overcome with emotion. More so that I have ever felt while hunting, not my first turkey or deer or even Garrett's first deer, has come close to the way I was feeling. I guess it was relief, joy, being proud, and just the fact that he really did it all on his own. With all of the commotion going on the blind right before the shot I was so proud of Garrett for taking his time to get a good bead on the gobbler's neck even though I was trying to rush him.
I finally grab the gobblers leg and lift him up while managing to get his spur caught in my glove and leaving me with a little battle scar and some blood to remind me of the moment..This turkey was very heavy and had a great beard and spurs. The final measurements, 21 Lbs. 10 inch beard and 1 1/16 spurs.
After many hugs and kisses, high fives and "I love yous," we pack up our gear and head back to the truck. By the time we get back to the truck the gobbler is soaked. I let him ride up front in my lap to try to keep it as dry as possible for pictures.
We get back to the cabin and unload in the mud room about the time Bobby and Jackson arrive back. They faintly heard the shot and thought maybe Garrett killed a gobbler. They too, were very excited and proud of Garrett. We hung the gobbler up on the porch to let it dry for a while before we took pictures. After a few hours and a couple naps (not me, I think I was still to fired up to sleep) we finally got the gobbler to dry out enough for some photos.
We also got do a little more trout fishing and once again Garrett was the man at that also. Even though he managed to lose every spinner I brought with us.
I got a hold of Dane Bisile from Logan, Ohio and he said he would love to mount Garrett's first Gobbler. Dane is the taxidermist who mounted my first gobbler back in 1998, what are the chances of catching back up with him to mount Garrett's first. Priceless. So Garrett and I made our way to Dane's house to drop the gobbler off while we were in the area.
We hung out that evening with Chris and Bobby and some of Bobby's family who made their way up to the cabin for Ohio's opening day of the regular season Monday. Garrett finally managed to fall asleep after a hard day of hunting, fishing, and hanging out with Jackson. I made my way to bed a little later with such a great feeling of being able to spend such quality time with Garrett. Even without the kill, the father-son time was something I will never forget.
On April 17, 2011,I get up with the rest of the guys and see them off as they go out in search of a gobbler for Jackson, and Bobby's brother's son. I clean up a little around the cabin while Garrett sleeps in and make my way out on the porch around daylight and hear a couple birds sounding off out from the cabin. What a way to welcome a morning.
Garrett gets up and eats a little breakfast and we load up and say goodbye to Tuckers Ridge. What a weekend.
Beyond The Backyard gave Garrett the opportunity to experience something not everybody gets to do. I am so thankful to the hospitality of Bobby Warner for opening up his little piece of heaven to us and allowing us to have this opportunity and Chris Walls was amazing all weekend. He really went out of his way to get to know Garrett, to just volunteering his time to take a kid out whom prior to this weekend has only met a couple times.
Garrett had a great time but I believe it will be a long time before he really realizes the importance of times like this. I watched him grow up a little bit in that blind from a kid who I thought could kill a turkey if the perfect opportunity presented itself, to a boy who now I know can do it.
(Edited by Sports Editor Kyle Lovern.)


Read more: The Williamson Daily News - Tucker's Ridge turkey hunt